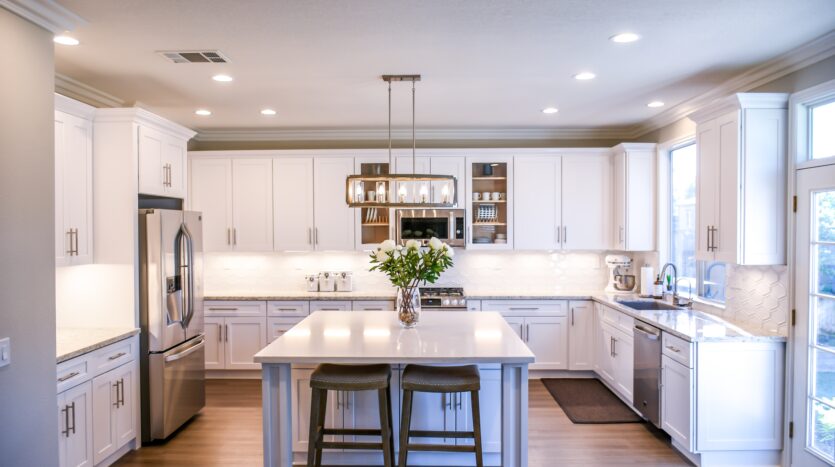 Luxury lighting designs provide your home with practical, elegant illumination and visual comfort. Whether you're looking for something subtle and classy like a wall sconce or dramatic and visually stunning like a crystal chandelier, a beautifully designed lighting scheme must incorporate a variety of elements in a single room.
Read on for some tips from our team at Frisbie, part of the Corcoran Group of real estate brokers. Not only do we help you buy and sell homes, but we enjoy providing insights into how to turn your new house into a home you will enjoy and decorate to fit your own distinctive style.
TYPES OF LIGHTING FOR DIFFERENT FUNCTIONS
There are generally three types of lighting to think about when designing your luxury home lighting: ambient, task, and accent lighting.
AMBIENT LIGHTING
The purpose of ambient or general lighting is to fill the room with mid-level lighting. Ceiling spotlights, bright pendants, chandeliers, and even daylight all contribute to your home's ambient lighting.
TASK LIGHTING
Task lighting is the light you need for a specific purpose. Sources of task lighting include reading lamps, workbench fixtures, or kitchen counter lighting.
ACCENT LIGHTING
Accent or "mood" lighting adds to the room's overall vibe and ambiance. Dimmable table lamps, uplights, or showcase lighting are all examples of light fixtures that add to your home's distinctive feel.
HOW TO DESIGN LUXURY HOME LIGHTING
When designing your luxury home's lighting, you will want to create a well-planned layout for lighting fixtures to ensure even coverage and a comfortable lighting temperature.
Be sure to research the lighting trends of 2021 to get an idea of what types of fixtures you may want and where the best placements may be. To start your luxury lighting layout, here are a few tips for interior design.
WALK THROUGH
Take some time to move through your home, one room at a time. While you're doing this, pay close attention to the quality and quantity of light in each room and where this light is coming from. Your lighting design should work with the natural lighting each room receives throughout the day.
CONSIDER THE PLACEMENT
Consider the placement and ease of access of ambient, task, and accent light fixtures throughout your home. Workplaces such as the kitchen, library, or study require evenly distributed ambient light for functional reasons, but there is always room for accent lighting.
Make note of areas where you would like to enhance the lighting. Perhaps a corner is dark or a place you're planning a work area needs task lighting. Dimmable ambient lights and warm accent fixtures are a great way to change the vibe of your room with a single switch.
NATURAL LIGHTING
Natural lighting plays a huge role in the feeling of your home. Make sure to walk through your home at multiple points during the day to understand how the natural lighting changes during the day. Observe how it bounces off of your walls at different times.
Luxury home lighting utilizes the natural sunlight each room receives and can balance this throughout the day using dimmer switches to increase or decrease supplemental light as you need it.
MULTIPLE SOURCES FOR VARIABILITY
Layered lighting sources can create a well-lit, inviting room, no matter the time of day. Using multiple light sources and dimmable fixtures also allows for variability in lighting to match whatever you feel like doing.
You can watch a movie with your family in the cozy ambiance of accent lights or turn on the overheads and floor lamps to host a party in the living room.
Understanding how lighting designs function and how light interacts throughout your house will help you revamp your luxury home lighting and create an elegant, cozy living space with style and personality.
For more information on our real estate company, if you are interested in buying and selling luxury homes in Palm Beach, Florida, please visit our website or call us at 561.373.0941. Our nationally acclaimed broker, Suzanne Frisbie, is the third highest-selling agent in Palm Beach and ranks 11th in the entire United States. We look forward to working with you.