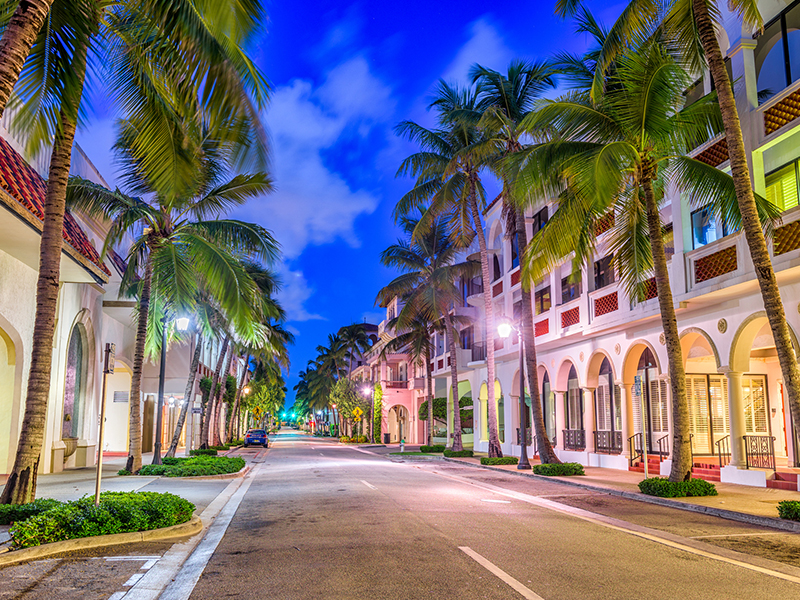 Nestled on a narrow barrier island between the Intracoastal Waterway and the Atlantic Ocean, Palm Beach is a vibrant coastal community that's home to world-class resorts, picturesque sun-kissed beaches, historic landmarks and cultural institutions, and an impressive array of luxurious oceanfront homes.
Living in Palm Beach puts you in the heart of one of the most dynamic communities in South Florida. The island town is highlighted by a dazzling mix of retail venues and restaurants that offer a diverse array of culinary creations, making it an unparalleled destination for shopping and dining.
Whether you're searching for one-of-a-kind fashion finds or looking forward to savoring delicious cuisine, Palm Beach's shopping and dining destinations are guaranteed to satisfy. While there's already a wide assortment of upscale shopping venues and restaurants in Palm Beach, there's still plenty to look forward to on the horizon.
On this page, we'll take a look at some of the finest shopping and dining destinations to visit in Palm Beach. We'll also give you a glimpse of upcoming establishments scheduled to open in and around the area in 2023.
SHOPPING IN PALM BEACH
Here's a look at some of the shopping venues that are soon to open in and around Palm Beach in 2023.
Gucci at 225 Worth Avenue
A new Gucci location on Worth Avenue is scheduled to open by early 2023. The iconic Italian fashion brand is set to complete construction work at 225 Worth Avenue, a space previously occupied by apparel brand Brooks Brothers, which closed in 2020. According to a representative of Gucci, minimal changes will be needed to renovate the space in preparation for the new store.
Gucci opened its first Palm Beach store at Royal Poinciana Plaza in 1961, the company's second location in the US (the first was in Manhattan's Fifth Avenue). The luxury fashion brand currently operates a 4,600-square-foot venue at The Esplanade on 150 Worth Avenue, in addition to other Palm Beach locations in Boca Raton and Palm Beach Gardens.
Gucci's new 5,800-square-foot store will provide much-needed space for additional styles, giving customers a wider selection of items to choose from.
Ballard Designs   in West Palm Beach
This Atlanta-based multichannel home décor and furniture design firm recently opened its first Design Studio in West Palm Beach this year. The new 2,500-square-foot store at 2916, South Dixie Highway, West Palm Beach was built as a studio concept designed to showcase décor and furniture in a streamlined process described by the company as "design individuality and customization."
Unlike traditional Ballard stores that stock a selection of products for customers to purchase and take home immediately, Ballard Design's West Palm Beach Design Studio focuses on providing one-on-one design consultations. The store is staffed with an on-site team of professional design consultants who assist customers in turning their design ideas into reality while providing a seamless process for ordering and installation.
The Design Studio features lifestyle vignettes of Ballard's bestselling furniture, including rug, fabric, and finish samples from their complete collection. Ballard Designs currently has two retail locations in Florida.
Avenir Town Center
Construction is currently underway for Avenir Town Center, a 51-acre centerpiece designed as a downtown hub for a new residential area consisting of 3,900 residences, as well as the nearby Acreage community.
Located in Palm Beach Gardens, the new 350,000-square-foot town center will include shops, restaurants, hotels, apartments, entertainment venues, and more.
Avenir Town Center is set to rise in a prime location on Northlake and Coconut boulevards, making it conveniently accessible to Downtown Palm Beach Gardens, West Palm Beach, Ibis, and Bay Hill.
Events to look forward to in 2023
The prestigious Palm Beach Fine Craft Show is returning next year and will be held at the Palm Beach County Convention Center from February 17 to 19, 2023. The much-anticipated event invites more than 100 contemporary craft artists from around the nation to showcase their latest works in a comfortable indoor setting.
The Palm Beach Fine Craft Show will be held, together with the 20th Annual Palm Beach Show, a high-end showcase of jewelry, art, antiques, and design, which draws more than 40,000 attendees every year.
Top shopping destinations in the area
In case you're new to Palm Beach, be sure to visit these top-rated shopping destinations:
The heart of shopping in Palm Beach is the iconic Worth Avenue, an upscale retail venue that's considered to be one of the best shopping districts in the world.
Established in 1938 and located steps away from the ocean, this landmark shopping destination is home to a mix of high-end boutiques, superb international dining options, and luxurious resorts. In addition to its variety of top-rated retailers and restaurants, Worth Avenue also features a collection of romantic tree-flanked side alleys known as the "vias," all of which are imbued with a distinct architectural character and a charming Old-World atmosphere.
Worth Avenue buzzes with activity year-round, treating visitors to a stellar lineup of events from historical walking tours to pet parades, art exhibits, winter jewelry shows, and much more.
Opened in the late 1950s, The Royal Poinciana Plaza has since become an iconic Palm Beach destination, offering terrific shopping opportunities, exciting dining venues, and an array of leisure and entertainment options, all surrounding a picturesque courtyard with serene water features.
The Royal Poinciana Plaza features a wide selection of high-end boutiques, including the legendary Asprey London, one of the finest bespoke luxury brands in the United Kingdom.
This is the go-to shopping location among those searching for great bargains on luxury goods. This well-known Palm Beach shopping destination is home to a vast assortment of outlet stores that feature luxury brands like Kate Spade, Coach, Michael Kors, Nautica, and Polo Ralph Lauren.
Shopping centers in Palm Beach Gardens
Located about 15 minutes north of Palm Beach, The Gardens Mall is one of the area's leading high-end shopping destinations, encompassing 1.4 million square feet with over 160 upscale specialty boutiques and restaurants anchored by Bloomingdale's, Macy's, Nordstrom, Saks Fifth Avenue, and Sears.
Originally known as "The Gardens of the Palm Beaches," The Gardens Mall opened in 1988 and has since developed a reputation as one of Palm Beach County's top luxury shopping destinations with its award-winning architecture and landscaping, popular signature events, and innovative retail mix.
This retail hub features an assortment of more than 30 upscale boutiques, including many of the world's top luxury fashion brands.
Legacy Place is where you'll find a great selection of furniture and home décor retailers like Bassett Furniture, Ethan Allen, Patio Shoppe, and The Container Store.
DINING IN PALM BEACH
New and upcoming restaurants in the Palm Beach area
Freshly caught mahi-mahi, traditional Italian thin-crust pizzas, and aged porterhouse steaks grilled to perfection are just some of the wonderful culinary delights to savor in Palm Beach. Whether you're looking forward to a hearty brunch after a workout, celebrating a special occasion, or just out to grab a quick bite, Palm Beach's dining destinations are sure to satisfy.
Below are some of the newest restaurants in the area, along with some upcoming venues to look out for.
RPM Italian
RPM Italian is known for its masterfully crafted traditional Italian dishes made with a modern approach. The restaurant's contemporary menu is guaranteed to impress even the most discerning diners as it offers a variety of artisanal housemade pasta, wood-oven pizzas, steak and chops, and fresh seafood dishes – all meant for sharing.
This new restaurant in Downtown West Palm Beach will be designed by the award-winning Rockwell Group and will feature spacious indoor-outdoor dining options. Guests are sure to enjoy the panoramic waterfront views of the Intracoastal Waterway and the island of Palm Beach from the restaurant's 8,000-square-foot terrace or from the outdoor bar and lounge.
The sister restaurant of RPM Steak and RPM Seafood, RPM Italian started in Chicago and has expanded to other cities including Las Vegas and Washington, DC. Their new location is scheduled to open its doors in 2023 at Phillips Point, 777 S Flagler Drive.
This restaurant opened in Palm Beach County last May, marking its first location outside of Broward County. The Palm Beach Gardens location features over 2,600 square feet of indoor-outdoor dining space equipped with spacious booths, antique light fixtures, bar seating, high-top tables, HDTVs for games and events, and a patio area for al fresco dining.
Legends Tavern and Grille has provided an exceptional dining experience for countless South Florida diners for over 12 years. Its menu is filled with an array of signature dishes and cocktails that include its best-selling "bangin' shrimp, pot roast grilled cheese, double smash burger, the "Legendary Old Fashioned" and signature Legendary margaritas. The Palm Beach Gardens location offers eight beers on tap, as well as seasonal and themed menus throughout the year.
One of the most-anticipated dining spots that are set to open in Palm Beach is Estiatorio Milos, a renowned restaurant known for serving authentic, refined Greek cuisine. Founded in 1979 by award-winning chef Costas Spiliadis, Milos has cemented its reputation in the culinary scene for presenting a sophisticated yet unpretentious approach to Greek cuisine, offering fresh Mediterranean fish and other seafood dishes. In addition to being a pioneer of the Hellenic food scene, chef Spiliadis is also one of the most influential chefs in the world.
A sister restaurant to Milos Miami, Estiatorio Milo's new location in West Palm Beach will feature a scenic indoor and outdoor dining setting surrounded by a lush garden environment overlooking the Intracoastal Waterway. The restaurant will have a supply of fresh fish arriving daily from the Mediterranean, together with stone crabs and other delicacies sourced from fishermen throughout the Florida Keys.
Estiatorio Milos will open its doors to patrons at One Flagler in 2023.
Harry's / Adrienne's Pizza Bar
The first Harry's location outside New York City is set to open in Downtown West Palm Beach before the end of 2022. A beloved Wall Street steakhouse for half a century, Harry's has delighted countless diners with its reinvented contemporary classic cuisine. The upcoming venue will be the anchor restaurant at the 360 Rosemary office tower.
Joining Harry's in its new West Palm Beach home will be its sister restaurant, Adrienne's Pizza Bar. After opening its original branch in Manhattan's bustling financial district in 2004, Adrienne's has since become a cult favorite among New York visitors and locals alike. Menu favorites include fresh-from-the-oven square pizzas and delicious Italian cuisine.
Both restaurants will share a 10,000-square-foot space and are slated to be the only locations outside New York City's financial district.
Felice
Another local Manhattan restaurant making its way to Palm Beach is Felice, which will open its first branch outside of New York City at 360 Rosemary. Originally opened in Manhattan's Upper East Side in 2007, Felice is the sister restaurant of Sant Ambroeus and is known for its authentic Tuscan cuisine and extensive Italian-driven wine list with offerings by the bottle and glass.
Diners in Palm Beach can look forward to indulging in Felice's enticing array of traditional Italian dishes made with fresh, high-quality produce sourced from the finest local farms. You can look forward to enjoying Felice's Tuscan-inspired cuisine soon at Downtown West Palm Beach's 360 Rosemary, located steps away from The Square.
After starting out as a beachfront taco kiosk in Mexico in 2006, Tacombi is now set to delight Palm Beach locals with its mouthwatering tacos, burritos, and fresh, ice-cold juices.
This fast-casual taqueria will open at 575 Rosemary in Downtown West Palm Beach in 2023.
START YOUR SEARCH FOR THE PERFECT LUXURY PALM BEACH INVESTMENT
A luxury home in Palm Beach puts you in the heart of the island's vibrant shopping and dining scene, minutes away from a wealth of world-class destinations. To successfully navigate this exciting market, you'll want to have the best team by your side. My team and I at The Frisbie Group are ready to go above and beyond to help you find the finest luxury investments available in Palm Beach.
I am Suzanne Frisbie, a licensed broker-associate specializing in Palm Beach real estate since 1988. As a long-time resident and seasoned real estate professional, you can rely on my deep local knowledge, unsurpassed skills, and driven passion to help you attain your unique real estate goals in the area. With my team of top Palm Beach Realtors and extensive network of resources working for you, you can look forward to a seamless and stress-free experience, whether you're acquiring or selling a luxury property in Palm Beach.
READ: Suzanne Frisbie Named Top Agent in Palm Beach and State of Florida 
Begin your search for the perfect luxury home in Palm Beach today. Get in touch with me at 561.373.0941, or send me an email. You can also leave me a message here.
YOU MAY ALSO WANT TO EXPLORE HOMES IN: