West Palm Beach is a waterfront city nestled on the western shore of Lake Worth Lagoon, connected to Palm Beach through Royal Palm Way and Flagler Memorial Bridge. It is the county seat of Palm Beach County and one of the largest cities in South Florida with 57.69 square miles of total area.
Due to its strategic location, business and leisure mix well in West Palm Beach. Entrepreneurs enjoy lower business costs without the high-octane lifestyle often associated with economic powerhouses. Instead, there is balance between work and recreation, making West Palm Beach real estate a valuable personal asset for any savvy investor.
Below, Frisbie Real Estate zooms in on the nuances and intricacies of West Palm Beach real estate to guide you on your next luxury real estate purchase.
Overview of West Palm Beach market trends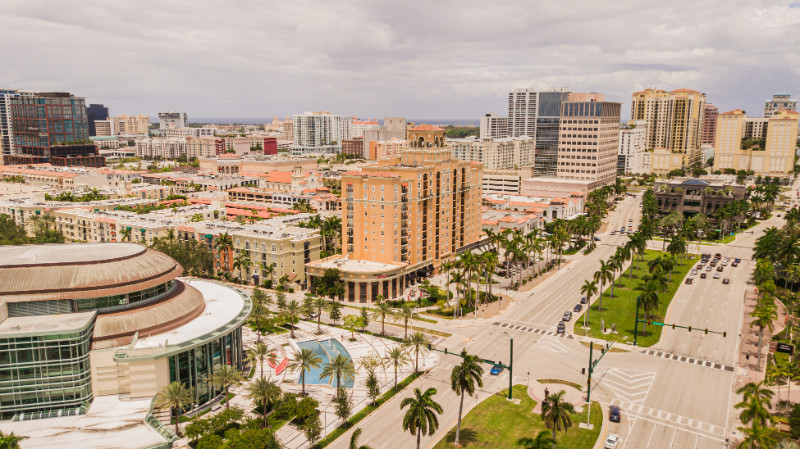 Housing inventory
West Palm Beach's housing market features 1,534 active listings as of April, 2022, including single-family homes, condominiums, apartment complexes, luxury estates, and townhomes. March, 2022 netted 494 sold properties across the city, spending an average of 40 days on the market. The temperature is considered competitive, with equal opportunities for both buyers and sellers.
Property types and age
Nearly half of West Palm Beach real estate consists of high-rise apartment complexes and condominiums (40.7%), while single-family homes are a close second (39.1%). A smaller portion of the market comprises low-density apartment buildings and townhomes, occupying 11.9% and 7.9% of the market, respectively.
Water is a significant part of everyday life in West Palm Beach. Large swathes of wetland are found throughout the city, as are smaller man-made lakes and navigable waterways. This has influenced the lifestyle of locals, who mostly reside in apartment complexes and high-rise apartments- these dwellings make the most use of limited space. Most of the residences in West Palm Beach have two to three bedrooms or lower, while a smaller percentage of the housing market feature five bedrooms or more.
The bulk of residential real estate development in West Palm Beach transpired between the 1970s and 1990s, accounting for 42.9% of the older homes in the city. Meanwhile, 28.13% of West Palm Beach's housing stock was built in the 2000s onwards. Investors who prefer even older properties are in luck-West Palm Beach also has a small collection of homes built between the 1930s and the 1960s.
Ownership
In total, West Palm Beach real estate has 41,511 homes and apartments: 52.5% of these properties are occupied rentals, 47.5% are owner-occupied, and 20.5% are vacant.
Property values
West Palm Beach real estate currently has a median home value of $378,111, which shows a 22% year-on-year increase. But for the past 21 years, West Palm Beach's housing market has appreciated by 189.18%, which translates to an average annual appreciation rate of 5%. This puts West Palm Beach real estate as one of the markets with the highest appreciation rates in Florida and the country.
The continuous growth of home prices in West Palm Beach can be attributed to the steady rise of the local real estate market's luxury segment. During the COVID-19 pandemic, West Palm Beach is one of the cities that attracted an influx of both out-of-state and Palm Beach buyers. Direct waterfront lots, in particular, have more than doubled in value in the past year. As of date, about 12.6% of the market is priced at $748,000 or more- this is expected to grow in the near future, along with the luxury market's inventory with the construction and completion of upscale high-rise condominiums.
Community profile
West Palm Beach is a medium-sized city with a total population of 117,415 (as of 2020). Majority of the residents are upwardly mobile professionals (40.7%) between the ages of 25 and 54.
While some of the recent newcomers in West Palm Beach are out-of-state buyers, a significant portion of the group are people who have moved from Palm Beach. The highly anticipated turning over of homes along the Intracoastal Waterway played a role in this small-scale migration, but much of the change is attributed to Palm Beach real estate's higher price tags and low inventory. Some Palm Beach residents started to realize that there are luxury properties in nearby West Palm Beach that are just as good and more reasonably priced.
Economic profile
One of the Miami metropolitan area's principal cities, West Palm Beach features a robust local economy bolstered by incentives, a large and educated workforce, and a pro-business government.
West Palm Beach's younger median age (39.5) is one of the primary reasons why businesses are seeking to relocate to the city. Several industries are charged with West Palm Beach's economic success, including scientific and technical services (one of the city's high-paying sectors) and health care and social services, the latter two being the biggest industries in the city.
In 2021, several companies relocated or established offices in West Palm Beach, including AltaRock Partners and Moving Minds. Two significant relocations of note, however, are EXUMA Biotech and NewDay USA. Last year, EXUMA Biotech opened a 6,500-sq. ft. laboratory in West Palm Beach that added 100 new jobs in the city. Meanwhile, NewDay USA's new 50,000-sq. ft. headquarters added 600 jobs and $10 million in capital investment.
Recent developments in West Palm Beach, FL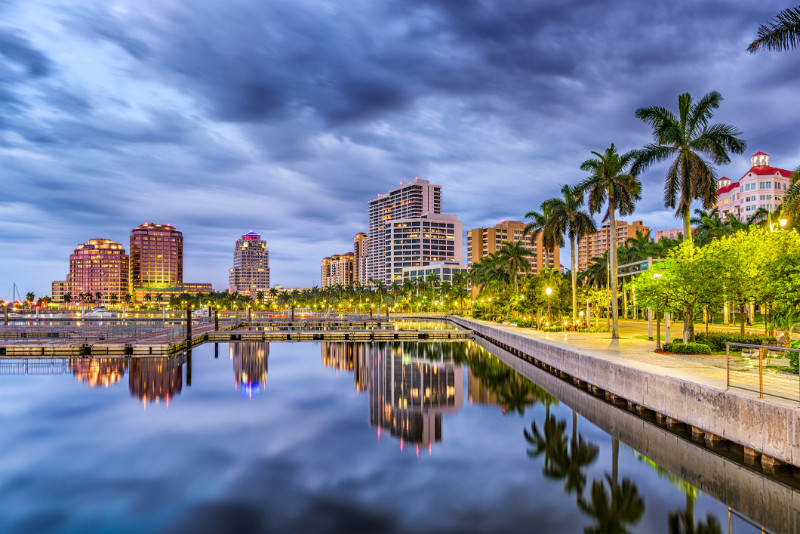 A historic city with a modern outlook
West Palm Beach possesses nearly 130 years of history in between its incorporation in 1894 and today, making it the oldest incorporated community in the South Florida region. Tourism helped form the foundation of the city, and while it continues to have a significant impact on West Palm Beach, real estate development has started to expand across different industries.
Plans have been drawn up to transform West Palm Beach into the next Miami. These include the construction of the University of Florida's satellite campus, which is slated to open in 2023 once land and state investments have been approved. Brightline's West Palm Beach Station is also expected to change the neighborhood of Clear Lake with the construction of the Orlando International Airport extension well under way.
Changing West Palm Beach's skyline
As West Palm Beach real estate continues to captivate luxury homebuyers from Palm Beach and out of state, the city's skyline also undergoes a metamorphosis. To keep up with the demand, more developers are spurred to construct high-end condominiums across West Palm Beach.
Among the newly completed high-rises in West Palm Beach is The Bristol, a 25-story luxury complex by the waterfront with views of Palm Beach Island and the Intracoastal Waterway. Its completion helped stimulate the renewed interest in West Palm Beach when Sydell Miller of beauty brand Matrix Essentials traded her Palm Beach estate with a $42.5 million penthouse at the Bristol.
A more recent development is South Flagler House, a collaboration between The Frisbie Group and Hines. Designed by Robert A.M. Architects (RAMSA), South Flagler House will be a two-towered waterfront condominium featuring a total of 91 carefully curated residential dwellings. Sales and marketing will be exclusively led by Suzanne Frisbie of The Frisbie Group, with prices expected to start at $10 million.
Related Group has big plans for West Palm Beach as well. Apart from the Ritz-Carlton Residences, the developer intends to reshape The Square in Downtown West Palm Beach into an upscale business, residential, and lifestyle district. Another planned project of Related Group is the redevelopment of the Clear Lake neighborhood, which will benefit from the new Brightline station and the University of Florida's satellite campus.
West Palm Beach luxury real estate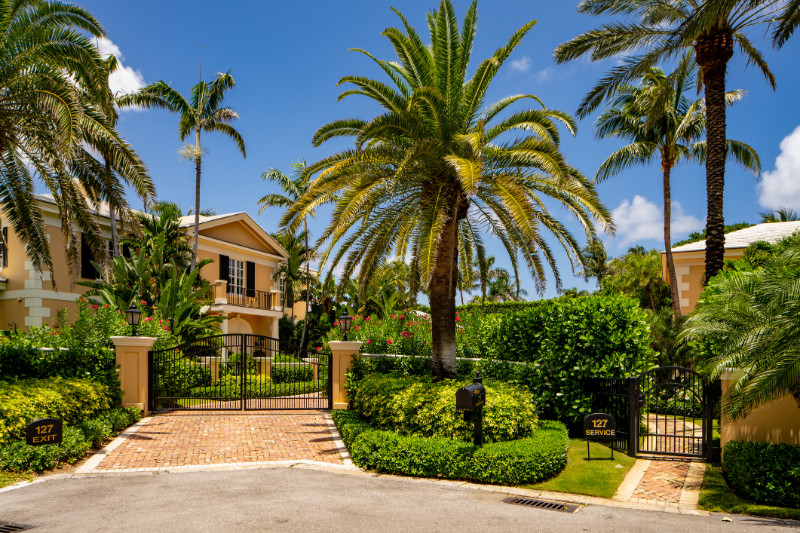 Single-family homes
West Palm Beach real estate features an extensive collection of upmarket single-family properties in a range of architectural styles: Italianate, Contemporary Modern, Tuscan, Mediterranean, and Colonial, to name a few. A large portion of these single-family homes were built prior to the 2000s, but the market also offers brand-new constructions for buyers who prefer to be the first residents of their new home.
A wealth of space is to be expected in every single-family home in West Palm Beach's luxury market. Five to nine bedrooms are the staple among these properties, where four to six bathrooms and half-baths for guests are the norm. Oversized lots, golf access in some communities, galleries, private pools, cabanas, and separate guest houses are also quintessential features especially among properties on the higher end of the spectrum.
Waterfront properties
With its enviable coastal environment and sprinkling of waterways and lakes, West Palm Beach real estate offers an abundance of waterfront luxury estates both new and established.
Waterfront properties in West Palm Beach can be categorized into groups of three: those along North and South Flagler Drive, lakefront homes in golf communities, and canalfront estates. These luxury abodes by the water often feature gazebos, outdoor kitchens, covered loggias, guest accommodations, and lighted tennis courts, but those that are located directly on the waterfront come with additional lifestyle amenities in the form of private deepwater docks and, in some cases, beaches.
Condominiums
Luxury condominiums in West Palm Beach alternate between low-rise and high-rise dwellings in some of the city's most desirable neighborhoods. They can come in the form of three- to four-bedroom units with all the necessary West Palm Beach features and amenities: floor-to-ceiling windows for gorgeous skyline and intracoastal vistas, private outdoor terraces, customized kitchen floor plans, private elevators and foyers, and underground parking.
In addition to the unit features, West Palm Beach's collection of luxury condominiums offer a bevy of high-end facilities for the ultimate living experience. These can include spa and treatment rooms, resort-style pools and cabanas, stepped gardens with walking and jogging paths, and round-the-clock concierge services, to name a few.
GO ON A VIRTUAL TOUR: Luxury homes for sale in West Palm Beach, FL
West Palm Beach communities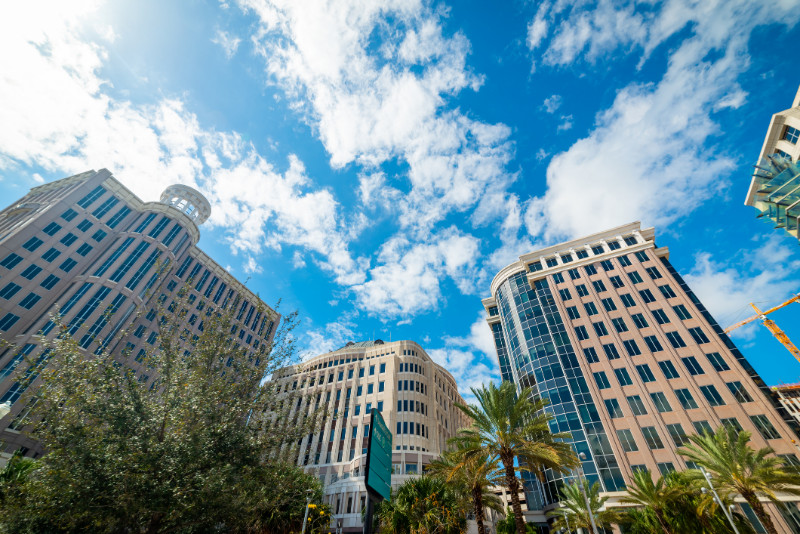 West Palm Beach is divided into exclusive enclaves and historic downtown neighborhoods where the past and present meet.
El Cid
El Cid is a historic district bordered by South Dixie Highway, South Flagler Drive, Dyer Road, and Flamingo Drive. Settled as early as 1875, homes in the neighborhood range from $2.75 million to over $19.5 million, while rent can cost as much as $6,000 monthly. In exchange for the impressive price tag is water frontage, access to top public schools, and close proximity to Downtown West Palm Beach. Housing options in the market include historic Spanish-style estates and bungalows that showcase beautiful craftsmanship.
The Club at Ibis
Located near Grassy Waters Preserve is the exclusive country-club community of The Club at Ibis. With a median real estate price of $743,008, the neighborhood is considered to be among the most expensive not only in West Palm Beach but in the entire state of Florida. Due to the private nature of the community, The Club at Ibis is a low-density neighborhood. The local real estate includes spacious single-family homes with three to four bedrooms or more, as well as a handful of high-rise apartments.
The piece de resistance of The Club at Ibis is its three golf courses designed by the Nicklaus family: the Legend, the Heritage, and the Tradition. The community also features a sports village and clubhouse with four on-site dining options, high-end fitness facility, and a social calendar full of members-only events.
Marina Park
Marina Park is a small waterfront enclave in Downtown West Palm Beach, bounded by Okeechobee Boulevard, North Quadrille Boulevard, and South Olive Avenue. Intracoastal views as well as vistas of Palm Beach Island can be enjoyed in this neighborhood, located right between Royal Park Bridge and Flagler Memorial Bridge.
At Marina Park, single-family homes interweave with high-rise apartments and complexes, offering anywhere between one to five bedrooms. The median real estate price in the neighborhood is $692,276, while the average rental price settles at $2,687. Because of its downtown location, a sizable portion of Marina Park real estate, which is newer compared to the rest of West Palm Beach, is renter-occupied.
South Side
South Side is a long stretch of a waterfront neighborhood, bordered by Southern Boulevard, South Flagler Drive, Arlington Road, and South Dixie Highway. The area offers some of the more diverse selections of real estate in West Palm Beach, with home prices ranging between $260,000 to over $19 million. This dramatic difference is also reflected in the average rental prices in the neighborhood, which swing from $1,200 to over $20,000.
Most of the higher end properties are located within the Colonial Estates/South End section of the neighborhood. Homes command a median real estate price of $653,350 and an average rental rate of $2,045 a month. Recognized as one of the older neighborhoods of West Palm Beach, the Colonial Estates/South End area features a beautiful collection of older luxury properties built between the 1940s and 1960s.
Prices, however, do nothing to change the South Side lifestyle: residents, both long-time and transplants, frequent the neighborhood's streets to explore its nightlife and restaurants.
Breakers West
Although located further inland, Breakers West is considered one of the more sought-after neighborhoods to live in West Palm Beach. Real estate in this guard-gated, country club community has a median home price of $586,480 and an average monthly rental price of $2,417. Breakers West is bounded by the following thoroughfares: Okeechobee Boulevard to the north, Southern Boulevard to the south, Florida State Road 7 to the west, and Sansburys Way to the east.
Breakers West only has 540 luxury homes scattered throughout the 670-acre wildlife sanctuary-turned-neighborhood, ranging from 1,500 square feet to 8,000 square feet in size. Most properties have three to four bedrooms, while some of the larger homes feature six or more. A vast majority of real estate at Breakers West was built between the 1970s and the 2000s.
Part of the appeal of living at Breakers West is the access to two country clubs: Breakers West Country Club and Mayacoo Lakes Country Club. Both offer different membership types, challenging championship courses (one designed by Rees Jones and the other by Jack Nicklaus), and top-of-the line facilities, which include Har-Tru tennis courts, Olympic-sized swimming pools, and social clubs, among other things. Membership at Breakers West also comes with certain privileges at The Breakers, the historic beachfront club in Palm Island.
Find your next luxury investment in West Palm Beach
More luxury buyers are discovering the treasures of West Palm Beach, resulting in higher property values and an excellent crop of new high-rise and estate developments. My team and I at The Frisbie Group can help you unlock the access to all of the most coveted and worthwhile luxury investments in West Palm Beach real estate.
I am Suzanne Frisbie, a longtime South Florida resident and experienced broker-associate with The Frisbie Group, one of the most trusted brands in Palm Beach County real estate. Since 1988, I have been guiding the most intrepid and discerning luxury real estate investors make their mark in coastal Palm Beach County. Let me help you make yours, too.
READ: Suzanne Frisbie Named Top Agent in Palm Beach and State of Florida
Get in touch with my team today or connect with me directly at 561.373.0941 and suzanne(at)frisbiepalmbeach(dotted)com to learn more about West Palm Beach real estate from one of the most awarded Realtors in the area.
YOU MAY ALSO WANT TO EXPLORE HOMES IN: